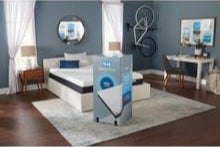 Mattress-In-A-Box
Available in 8- and 10-inch profiles, the Mattress-In-A-Box brings you everything you need for a better night's sleep—right to your doorstep.
Each Mattress-In-A-Box features AirCool® Gel Memory Foam for pressure relief and a cool, comfortable sleep environment.
From the ease of unpackaging to a sound night sleep, we've got you covered.